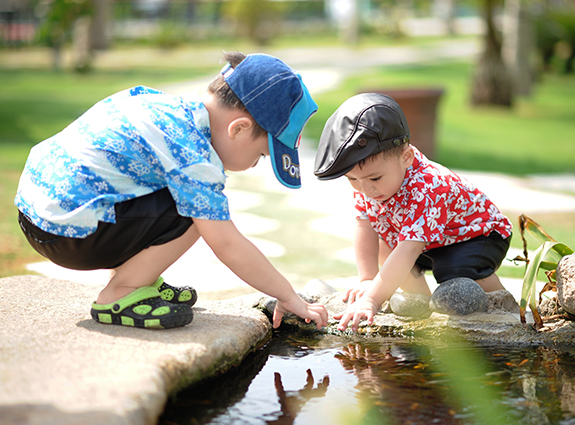 26 Aug

The Pros of Playdates For Toddlers

While some parents may see playdates simply as a time for their children to have fun or get out some extra energy—playdates can offer so much more not only for toddlers but for parents as well. Toddler playdates provide some much more than a few hours of fun, and the more parents realize about the benefits of these playdates, the better.

Playdates, first and foremost, are great for teaching toddlers important social skills. A playdate will give your child the opportunity to meet and play with other kids their age. Additionally, playdates give toddlers the opportunity to play and interact in a new environment. This is particularly important for toddlers who are dependent on their parents. If you want your child to stop being stuck to you like Velcro, then a playdate is a great opportunity for them to explore a new location with new stimuli, so they learn to have more confidence and be more independent.

This is really important for toddlers, and many times little ones will actually choose to play on their own. Don't be concerned if your toddler plays solo—this is just part of the stage of their development, they are just doing what comes naturally to them. In fact, this is an important step for your toddler learning to do things on their own. Eventually, most toddlers learn to play together with each other.

Playdates are also great for toddlers who are preparing to go to preschool for the first time. If you are planning on putting your toddler into preschool soon, and they haven't been on many playdates, there is no better time to set up playdates than now. This helps your child to observe, acquire, and try out new social skills so that preschool isn't so overwhelming. You may be surprised by how much your toddler can learn about manners, sharing, and learning how to say "goodbye."

For many parents, there are benefits as well. After all, while most parents spend their days occupied with naps, diaper changes, and cartoons—there comes a time when parents need some adult conversation and interactions. Playdates aren't just a great social opportunity for kids, but for parents too. Schedulign playdates help parents find a social circle of other moms and dads going through similar things.

Playdates can give you the opportunity to see how other parents handle difficult parenting situations, while making connections. You never know when you might want to connect with another parent—they can be a great resource for pediatricians, birthday rentals, toy recommendations or anything in between!

If you have questions about playdates, schedule an appointment at Continuum Pediatrics by calling 817-617-8600 today. We can help answer any questions you may have about the benefits of playdates and social interactions for your little one.