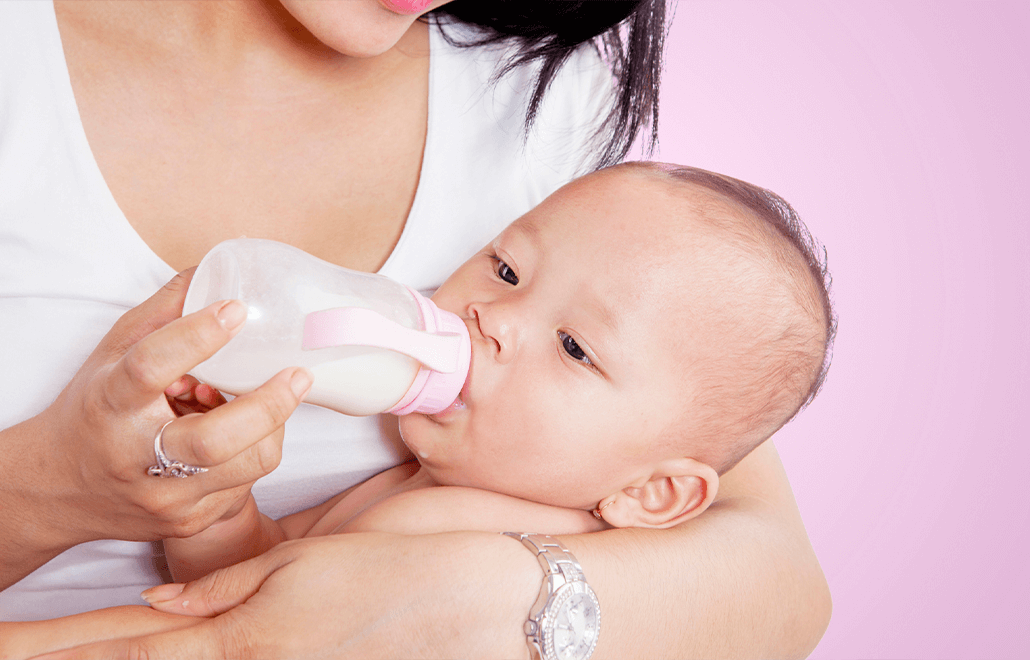 23 Nov

Formula Feeding 101

Formula feeding may look like a simple process – you sit in a comfortable spot holding a bottle while your baby blissfully drinks out of it -but you need to learn a few things. Before you begin the sit-and-feed practice, it is important to choose the right formula and prepare and store it appropriately. Whether you are completely switching to formula feeding or want to combine it with regular breastfeeding, here is everything you need to know.
What is Baby Formula?
Baby formula is a nutrition source for babies designed to replicate the nutrients present in human breast milk. It comes in three different forms, including:
Powdered formula: You add water to the powder to create a solution.
Concentrated liquid formula: For this one, you need to add water to the solution to make it drinkable.
Ready-to-use, premixed formula: You can use this formula right after opening without adding water.
Whether you opt for a branded or generic baby formula, keep in mind that all infant formulas are carefully made. These formulas contain numerous nutrients essential for your baby's growth, such as vitamins, proteins, minerals, calcium, electrolytes, and carbohydrates. The baby formula also contains ARA and DHA, omega-3, and omega fatty acids, which are necessary for improving brain function.
Formula Feeding Guide
If you are wondering how much formula your baby needs, here are a few rules to keep in mind:
Feed 1 to 3 ounces of formula to newborn babies every 3 to 4 hours.
Babies between 2 and 4 months should be given 4 to 6 ounces every 4 to 5 hours.
Five-month-old babies should generally consume 6 to 8 ounces of formula approximately five times every day. This means that they should consume a total of 24 to 36 ounces in 24 hours.
Infants under 6 months should take 2 to 2 ½ ounces of formula for each pound of baby weight during 24 hours.
Which Baby Formula Should I Choose?
There are different types of baby formula available in the market. Depending on your baby's taste and needs, you can choose from the following options:
Milk-based Formula
This formula is made from cow's milk and is the most commonly used option in the US. It is iron-fortified, easy to digest, and rich in essential minerals. It contains vegetable oil and milk sugar, the key proteins in human breast milk.
Hydrolyzed formula
This kind of protein is broken down into smaller molecules, making it easier to digest. The hydrolyzed formula is also lactose-free and can be labeled as hypoallergenic.
Special formula
This formula is best for babies who require unique formulations, such as premature babies and infants who are allergic to cow's milk.
Before choosing the type of baby formula, it is best to consult a doctor or pediatrician.
Visit a Pediatrician
Continuum Pediatrics is a primary care clinic based in Keller, TX. We offer easy access to a host of services that ensure the health and well-being of your little one. Get in touch with us today at 817-617-8600 for more information about breastfeeding and switching to formula milk.