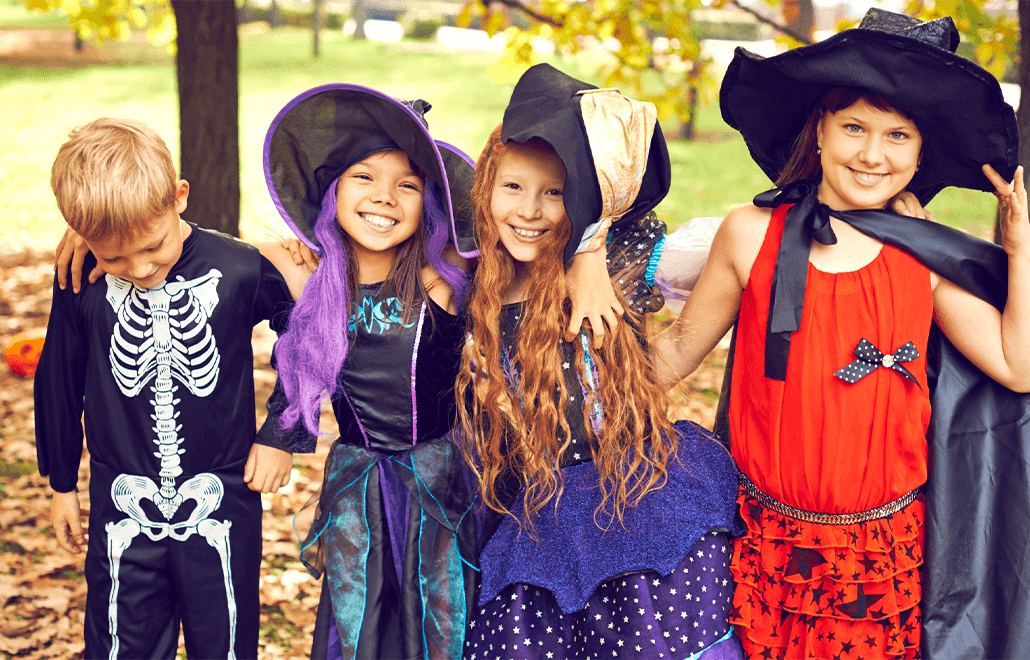 25 Oct

Halloween Safety Tips: Keeping Your Little Ghosts and Goblins Safe

As the leaves change and the air turns crisp, Halloween approaches with its promise of spooky fun and sugary delights. It's a time when little ones transform into witches, superheroes, and ghouls to embark on the beloved tradition of trick-or-treating. While Halloween is a magical time for kids, it's essential for parents to prioritize safety to ensure the festivities remain enjoyable and injury-free. Here are some valuable Halloween safety tips to keep your little ghosts and goblins safe during this exciting holiday.
Costume Safety:
Choose costumes that are flame-resistant to reduce the risk of accidents near open flames, such as jack-o'-lanterns and candles.
Ensure costumes are the right size to prevent tripping or entanglement hazards. Hem costumes if necessary to avoid stumbling.
Opt for face paint or makeup instead of masks, which can obstruct vision. If masks are used, ensure they have large eye openings.
Visibility is Key:
Add reflective tape or stickers to costumes and treat bags to make your child more visible to motorists.
Equip your child with a flashlight or glow stick to improve visibility during evening hours.
Choose brightly colored costumes, if possible, to enhance visibility.
Safe Trick-or-Treating:
Plan a well-lit route for trick-or-treating, and avoid streets with heavy traffic.
Always accompany young children while trick-or-treating, and ensure older children go in a group with a trusted adult.
Remind children to stay on sidewalks and cross streets at designated crosswalks. Look left, right, and left again before crossing.
Teach kids to never enter a stranger's home or car, no matter what treats are offered.
Check Treats:
Inspect all treats before allowing children to indulge. Discard any unwrapped or suspicious-looking items.
Be mindful of food allergies. If your child has allergies, review the ingredients of collected candies, or consider participating in a Halloween candy swap with safe alternatives.
Home Safety:
Keep your home well-lit and free of tripping hazards for visiting trick-or-treaters.
Secure pets in a separate room to prevent them from getting stressed or anxious due to the constant doorbell ringing and unfamiliar costumes.
Pumpkins and Decorations:
Use battery-operated candles or LED lights in jack-o'-lanterns to avoid fire hazards.
Keep candles and decorations away from walkways to prevent costume contact.
Respect Property:
Teach children to respect others' property by not trampling lawns, flowerbeds, or decorations.
Emergency Contact:
Ensure your child knows their full name, phone number, and home address in case they get separated from you.
Carry a mobile phone for emergencies and program it with essential contacts, such as local authorities and a trusted neighbor.
Safe Halloween Parties:
If attending Halloween parties or events, verify that safety measures are in place, such as adult supervision, well-lit areas, and clear pathways.
Plan for Emergencies:
Discuss a plan with your child for what to do if they get lost or separated. Designate a meeting point.
Familiarize yourself with the route and neighborhood in case you need to locate your child quickly.
By following these Halloween safety tips, you can ensure that your little ones have a fun and memorable holiday while staying safe. Halloween is a time for creating cherished memories, and with proper precautions, it can be a delightful experience for both kids and parents alike. Have a spooktacular Halloween!