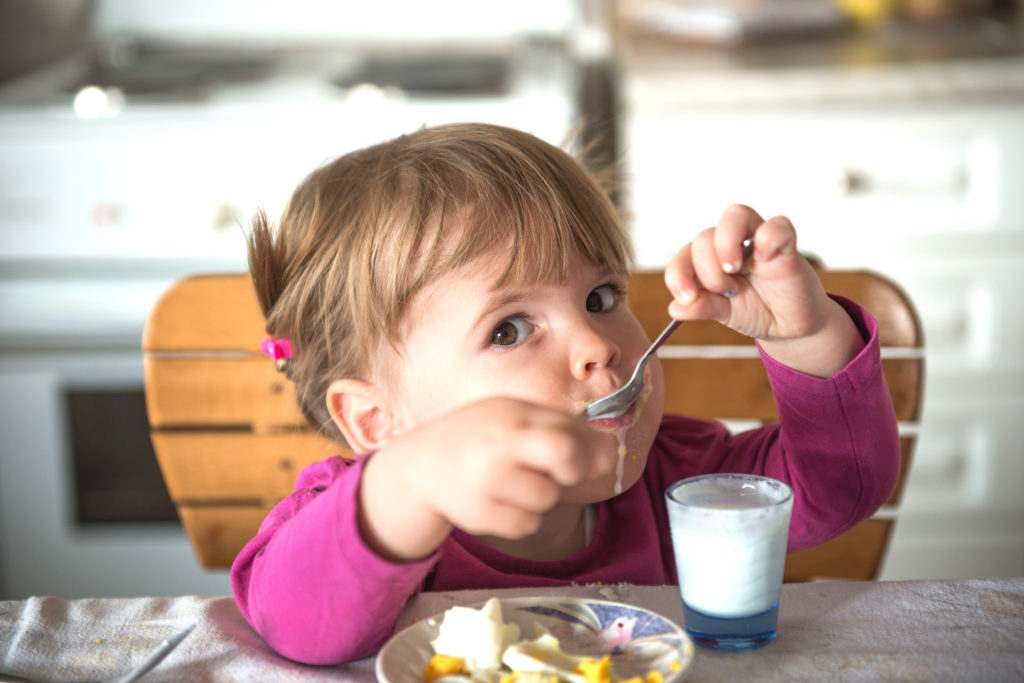 03 Feb

5 Vitamin-Packed Foods For Your Child

As most parents know, kids don't always like to eat healthy. In fact, a lot of parents struggle with picky eaters who prefer cookies, cake and fast food to fresh fruits, veggies and salads. This is a normal, albeit difficult, challenge for many parents. And while you may not be able to convince your toddler to ditch Mac N' Cheese for Brussel Sprouts, there are things that you can do as parents to help make sure your kids are at least eating healthier.

By adding a few of the right foods into your child's diet, you can make sure they are getting the vitamins and nutrients that your child needs to grow up strong, and healthy. We love these food options for kids because they are not only healthy, but tasty foods that are easy to incorporate into your child's current routine.
Nut Butters
While peanut butter can be high in calories, it is filled with great vitamins and nutrients. Peanut butter is a great option for kids who don't eat a lot and who need an extra boost of energy. Peanut butter is filled with about half of your child's daily vitamin E needs. This is important as about 80 percent of kids under the age of 8 are missing their daily required amount of vitamin E.
If your child is allergic to nuts, try sunflower seed oil as a healthy alternative.
2. Yogurt
Yogurt is a great option for kids who have a sweet tooth and a food that is packed with vitamins and nutrients. Yogurt is high in calcium, which is good for growing bones, as well as vitamin D which will not only strengthen bones but can actually help prevent diabetes. Yogurt is also filled with healthy probiotics which can help with healthy digestion.
However, it is important to be careful when shopping for yogurt for kids. There are many yogurts, especially those marketed towards young people that are filled with sugars—so always read your labels first with yogurt.
3. Sweet Potatoes
Sweet potatoes are a great healthy option for kids because, well, they are sweet, but they are also filled with vitamins. Sweet potatoes are also a great way to help your child get enough fiber—which is something that many kids are missing. Sweet potatoes are also filled with protein, vitamin A, vitamin C and manganese.
This is a great side dish for kids at dinner, and a fun early food for little ones who are expanding their pallets with soft, delicious foods.
4. Beans
Beans are an often overlooked superfood and one that can be a tasty addition to your child's diet. Make sure that you get low-sodium beans like kidney beans, black beans or chickpeas and make sure to rinse them before coking or serving them. Beans are a great source of fiber and protein and are any easy side dish to add to any meal.
5. Avocado
A lot of kids aren't getting enough healthy fats, which is why avocados are such as a great addition to any kid's diet. In addition to being filled with vitamins, avocado is filled with monounsaturated fats which can help with inflammation. Avocados are easy for kids to digest and actually keep them feeling fuller longer, making them a great option for those who tend to get hungry easily and kids who want to reach for unhealthy snacks when they do.
We also love that avocados are versatile and easy to add to your child's diet. Put them in a smoothie, on whole-grain toast or mix it in with tuna or chicken salad. There are so many possibilities when it comes to fresh, green avocado.
If you have more questions about healthy eating habits for your child, or vitamin-packed foods you can add to your routine, contact the experts here at Continuum Pediatrics today. Our doctors can help you create a healthy, balanced lifestyle for your child and one that is filled with healthy, vitamin-filled foods. If you have questions, you can make an appointment by calling us directly at 817-617-8600 today.